As a Blue Option member, you enjoy certain exclusive services, such as greater access to care, added convenience and helpful savings.
Your member guide helps you understand how your Blue Option plan works and includes information on:
Selecting a doctor.
Adult vision, pediatric vision and dental benefits.
Payment and billing.
What we pay for.
Emergency care and what to do if you need care away from home.
Your discounts and added values.
You can also view the 2024 member guide.
Online Tools & Helpful Resources
Learn more about your benefits and get more from your Blue Option plan.
How To Pay Your Bill
Need to pay your bill? We offer several convenient ways to do just that.
Online
To pay using a Visa, Discover or MasterCard credit card, please visit us online at www.quickbillsc.com.
By Phone
If you would like to pay by phone, please call us at:
You will need routing and account numbers from your checking account.
Through the Mail
You can also mail your payment to this address:
Attn: LockBox
BlueChoice HealthPlan
P.O. Box 100216
Columbia, S.C. 29202-3216.
In Person
Visit one of our South Carolina BLUESM Retail Centers to pay in person.
Columbia:
1260 Bower Parkway, Suite A4
Columbia, SC 29212
Monday – Friday, 9:00 a.m. – 5:30 p.m.
Saturdays by appointment only
803-264-9000 (Phone)
Greenville:
Magnolia Park Mall
1025 Woodruff Road, Suite A105
Greenville, SC 29607
Monday – Friday, 9:00 a.m. – 5:30 p.m.
Saturdays by appointment only
864-286-2285 (Phone)
Mount Pleasant:
1795 Highway 17 North, Unit 7
Mount Pleasant, SC 29464
Monday – Friday, 9:00 a.m. – 5:30 p.m.
Saturdays by appointment only
843-216-7760 or 855-492-2583 (Phone)
Myrtle Beach:
3701 Renee Drive
Myrtle Beach, SC 29579
Monday – Friday, 9:00 a.m. – 7:00 p.m.
843-736-8811 (Phone)
Please note that you have an age-rated policy. This affects anyone on your policy age 15 or older. It means there will be an age-related rate change every year for those members. If you or a member on your policy is age 15 or older in 2023, you will see your rate change starting Jan. 1, 2024, and every January thereafter.
Keys To Using Your Coverage
The best way to get information about your benefits

We are always happy to answer your questions about benefits or anything else. You have a lot of information at your fingertips.

Send us an email through our secure My Health Toolkit. If you are using it for the first time, you will need to create a profile — it just takes a few minutes. Read your Schedule of Benefits. We send you this when you first become a member, and whenever your benefits change. You can also view your benefits in My Health Toolkit. View your Member Guide.

You can also call us at the number on the back of your ID card to request we mail you a copy of your Schedule of Benefits or Member Guide.

What to do if you need care after hours

If you select a primary care physician (PCP), he or she has an agreement with us to provide 24-hour call coverage. This means no matter when you call your PCP, someone will answer the phone and advise you of the proper action to take based on your condition.

If an emergency arises, try to phone your PCP first. If he or she is unavailable, you can go directly to the nearest Doctors Care or other urgent care provider. However, if your condition is life- or limb-threatening, you should go directly to the nearest emergency room. As soon as possible, let your PCP know about any emergency care you have received.

Phone ahead for appointments and cancel at least 24 hours in advance

This helps you receive your medical care on a more timely basis. When you call first, your doctor's staff will arrange for the most appropriate care — either an appointment or advice for an ailment.

If you must cancel any appointments, please let your doctor's office know as soon as possible. Some physicians may charge for missed appointments and BlueChoice® HealthPlan does not cover those charges.

Make the most of your appointment

Be prepared to ask your doctor questions and provide as much background about your health as you possibly can. On your first visit, bring all the medicines you currently take. Your doctor will need this information to assess your medical condition and monitor possible drug interactions.

Here's a helpful checklist to make sure you're keeping up with you and your child's health. 

Always bring your ID card with you

Whenever you seek medical care, be sure to identify yourself as a BlueChoice® HealthPlan member. When you arrive for your appointment, present your member ID card to the office staff.

Now you can access your digital ID card anytime, anywhere from your computer or mobile device. Your digital ID card is identical to your physical card. It contains your member ID number and other coverage details that are unique to you. Unlike your physical card, you don't have to worry about losing it or ordering duplicate copies for your family.

To access your card, simply log into your My Health Toolkit account. 

Help yourself stay healthy

Take advantage of our Great Expectations® for health programs. We can help you stop smoking, control your diabetes or decrease your risk for heart disease. You'll learn to breathe easier with our asthma management program.

Expectant moms count on our maternity program to provide information and support, which can help them deliver healthy babies. We even have a special program for women only. For more information, call our Health Management department at 855-838-5897.

Choose a primary care physician

We strongly recommend you choose a primary care physician (PCP). This is a doctor who specializes in family medicine, internal medicine or pediatrics (for children and adolescents).

These doctors are trained to diagnose and treat many illnesses and manage chronic conditions, such as diabetes, high blood pressure and asthma. PCPs also provide preventive care, routine screenings and immunizations.

Should you ever need a specialist or other type of doctor, your PCP can recommend one in your Blue Option network and coordinate your care with him or her. Always seek care from your PCP first, unless it's an emergency.

Practice prevention

Nothing beats planning ahead when it comes to your health. Regular exams are one of our most attractive benefits, so make sure you practice preventive care. Here are guidelines for adults, as well as children and adolescents, seeking preventive services.

Where you go for care matters

We care about you and want to help you take charge of your health. Avoid needless worry, out-of-pocket costs and hours sitting in the emergency room (ER) by knowing how to navigate through the health care system and being familiar with other options for your care.

Primary Care Physician

Your primary care physician (PCP) should be your first choice for health care. Don't have a PCP? Find one here, or give us a call at 855-838-5897. We can help you find a doctor that fits your needs.

See your PCP for common medical issues:

Illnesses such as colds, flu, earaches and sore throats

Minor injuries such as sprains, strains and back pain

Routine physical exams, vaccinations and screenings

A health problem for which you need advice

The ER is not a substitute for a PCP visit. Going to the ER for something that is not a true emergency could result in long wait times and may result in your claim not being paid. The good news is that you have options! And if you're ever in doubt, err on the side of caution and seek immediate care. 

When Should I Go to the ER?

Sudden or unexplained loss of consciousness

Signs of a stroke

Poisoning

Signs of heart attack

Severe shortness of breath

Medication or drug overdose, alcohol poisoning 

Network Urgent Care Clinics

Urgent care centers provide another option when you need care and your regular doctor is not available. Urgent care centers provide attention for medical problems that need seeing to right away but are not life-threatening, or for problems that could get worse if you wait. 

An urgent care visit usually takes less time than a hospital emergency room and costs you much less. 

For more information about making the most of your benefits and navigating the complex health care system, contact our team: 

Monday – Thursday, 8:30 a.m. – 8:00 p.m. EST

Friday 8:30 a.m. – 5:00 p.m. EST
All About Deductibles
Learn about deductibles, including how they can affect monthly premiums, in our short video.
Learn About Coinsurance
Understand the lingo and find out the purpose of coinsurance in this short video.
What's an Explanation of Benefits?
Watch this animated video to learn what an Explanation of Benefits (EOB) is and what it means for your health insurance coverage.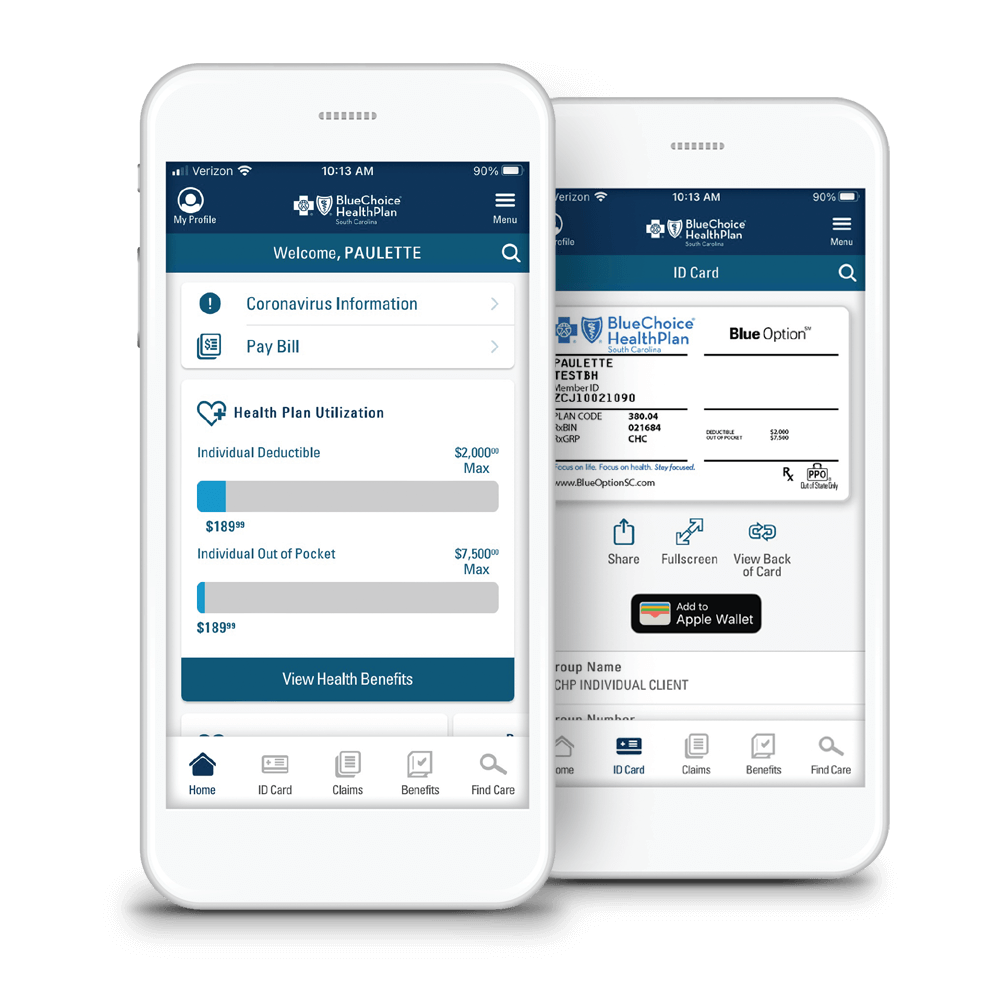 With You Wherever You Go
Your favorite features from the website are now available in a mobile app. With the My Health Toolkit® app, you can:
View and share your digital ID card.

Check the status of your claims.

Confirm your coverage for services.

Find a doctor or hospital in your network.
And more!